Yishun Florist - Flower Delivery Singapore
Online Florist is an established flower delivery service based in Yishun, Singapore. We provide fresh and beautiful blooms and bouquets for any occasion - be it a birthday, anniversary or to brighten someone's day. Our professional florists are committed to providing you with the highest quality flowers and gifts.
Our experienced customer service personnel can also help you choose the perfect gift for your loved ones. As a Yishun flower shop, we offer fast and convenient same-day flower delivery options so you can deliver your desired flower arrangement right to their doorsteps!
Whether you're looking for something special for a special someone or want to add a touch of beauty to your home décor, let us make sure your gifting experience is effortless and enjoyable.
How To Find US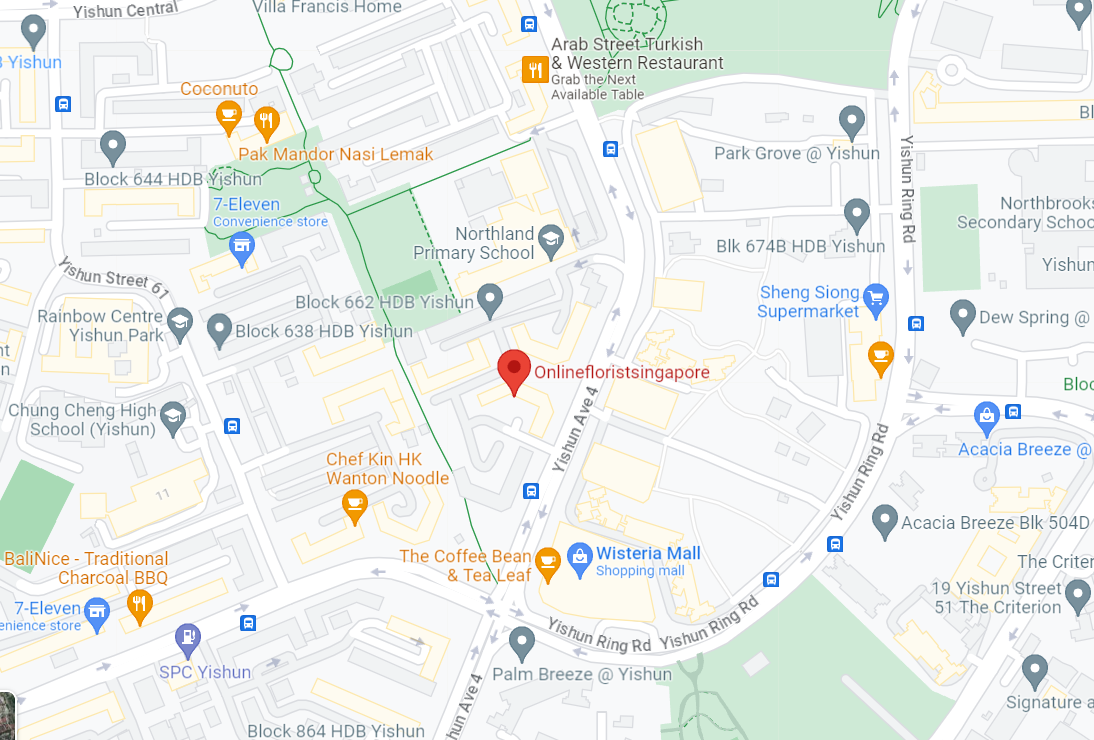 Top Categories For Yishun Flower Delivery
Mother's Day
When expressing affection for the woman who means the world to you, a bouquet of fresh blooms is always a winning option. Our range of hand-selected Mother's Day flowers includes some of the most popular favourites - from romantic roses to cheerful carnations.
Birthday
Wishes come true with our birthday gifts and blooms for all ages. Choose from bright flower bouquets made of gerberas, lilies, chrysanthemums and more - all hand-picked by our expert florist, so you get the best quality flowers available in Singapore!
Anniversary
Anniversaries are special occasions that deserve to be celebrated. Celebrate yours with a bouquet of the freshest and most beautiful blooms - from traditional roses and lilies to exotic options like orchids, dendrobiums and cymbidiums.
Graduation
Graduating is a big milestone that deserves to be recognised with something special! Our graduation gifts will surely bring smiles and cheer to your loved ones. Choose from our selection of balloons, hampers and flower arrangements for the perfect way to say congratulations!
Congratulation
One way to express your well wishes for someone's success is with a beautiful hand bouquet hand-picked by our best florists. We have an exquisite range of congratulatory blooms - from traditional roses to exotic orchids and lilies - all available for fast delivery in Singapore!
Wedding
Toast to the happy couple with a stunning bouquet of wedding flowers! Our selection of hand-crafted bridal flower arrangements is made with the freshest blooms available. Whether you're looking for something classic or modern, we have the perfect floral arrangement to make your wishes come true.
Get Well Soon
When someone isn't feeling their best, send flowers as a get-well-soon gift. This is a great way to show that you care about them and wish them good health.
Newborn
When it comes to gifts for a newborn baby, fresh flowers are always a welcome option! Our range of colourful flower bouquets and blooms will brighten anyone's day.
Proposal
Proposing to the one you love is a special milestone. Set the perfect scene with the best flowers for a romantic flower bouquet - from classic roses to exotic orchids and lilies, our selection has something for everyone!
Sorry
When words aren't enough, say sorry with fresh flowers! Choose from our bouquets and blooms, all hand-picked by our experienced Yishun florist.
Engagement
Celebrate the couple's special milestone with a stunning bouquet of engagement flowers. We have an exquisite range of romantic blooms - from classic roses to exotic orchids and lilies.
Condolences Wreath
Pay your respects in style with our range of sympathy flowers. We offer a variety of condolence wreaths, including traditional oblong and round wreaths, as well as heart-shaped floral designs in various colours.
Grand Opening
The perfect way to mark the start of a new era - make sure your grand opening is memorable by gifting exquisite blooms that symbolise success and renewal.
Best Sellers for Yishun Flower Delivery
Enjoy Free Same Day Flower Delivery
Online Florist's same-day delivery service ensures your order is hand-delivered to its destination within a few hours. We understand the importance of timely gift-giving, so we strive to ensure all orders are delivered as quickly and efficiently as possible.
Our experienced team of florists will carefully prepare and package your bouquet for same-day flower delivery, ensuring it arrives looking fresh and in perfect condition.
Why Choose OnlineFlorist?
Online Florist has been the go-to florist in Yishun for years, and we take pride in providing our customers with the freshest flowers and quality gifts. Our professional florists are dedicated to ensuring every bouquet is made fresh and with love.
We cater to birthdays, anniversaries, graduations, weddings and more. We offer various floral arrangements to suit any budget or occasion. Plus, our reliable same-day delivery service means your order will arrive at its destination within hours.
Let us help make your gift-giving experience effortless and enjoyable. Shop with us today and enjoy free same-day flower delivery!
Our Customer's Reviews
Our customers love our fresh and beautiful blooms, affordable prices, friendly customer service, timely flower delivery services, and more. We are grateful for the kind words shared by our customers. We are committed to delivering beautiful flowers and gifts with a personal touch, backed by our excellent service standards and dedicated team of florists who make sure that every detail is noticed.
Here are a few reviews from some of our happy customers: